Both production techniques are efficient and effective, it's really the product that should dictate the method adopted.
Precast
As the name suggests, this method is based on the traditional precast concrete method of mixing the 'ingredients' together, pouring into moulds, vibrated and finished.  This process relies heavily on processes and repetition, which is beneficial when producing multiples of identical products as we do.  The enclosed moulds and well tested process ensures that the exact amount of fibreglass, cement, water and additives (no polymers or aggregate) used to make Mascot GRC is achieved with each mix – guaranteeing our quality.
The enclosed moulds provide our products with a smooth finish, making them easy to work with and allowing for appropriate water flow in our drainage products.  This also ensures dimensions are consistent across moulds of the same product which is particularly important with the rebate (where the grate or cover sits).

Spray
Manufacturing GRC products using the spray method involves spraying layers of cement and fibreglass onto a mould surface and then compacted (manually by the operator) with a roller and continued until the desired thickness is met.  This process relies heavily on the machine operator and is well suited to architectural panels, cladding and building facades.
Below you'll see some photos of a building awning Mascot Engineering manufactured from GRC using the spray method.  As well as custom mouldings like these, for many years we manufactured building cladding in traditional profiles. Whilst we continued with custom GRC moulds like this for a number of years, running alongside our precast plant, we ceased production using this method in 2005.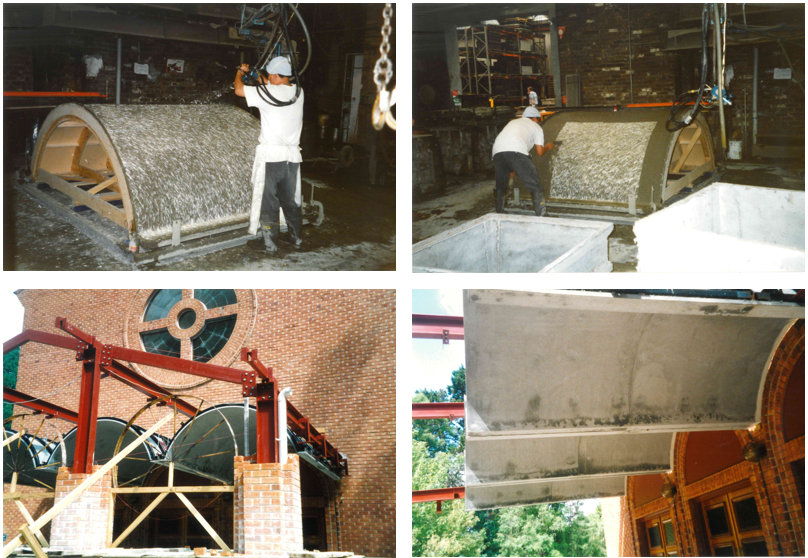 "It would not be an exaggeration to say that Mascot Engineering is the most successful manufacturer of GRC in Australia in the last 36 years."
Charles Rickard MSc, CEng, FIStruct.E FIE (AUST), MIPENZ
Principal of Rickard Engineering
Author of the Australian Code of Practice for Glass Reinforced Concrete (GRC)
Previous Technical Secretary of the National Concrete Association Australia (NPCAA)
Our GRC production plant is located in Smithfield, in western Sydney… Mascot Engineering has been manufacturing in Australia since 1920 and we're committed to continuing this for future generations.