Water Authority and Council Approvals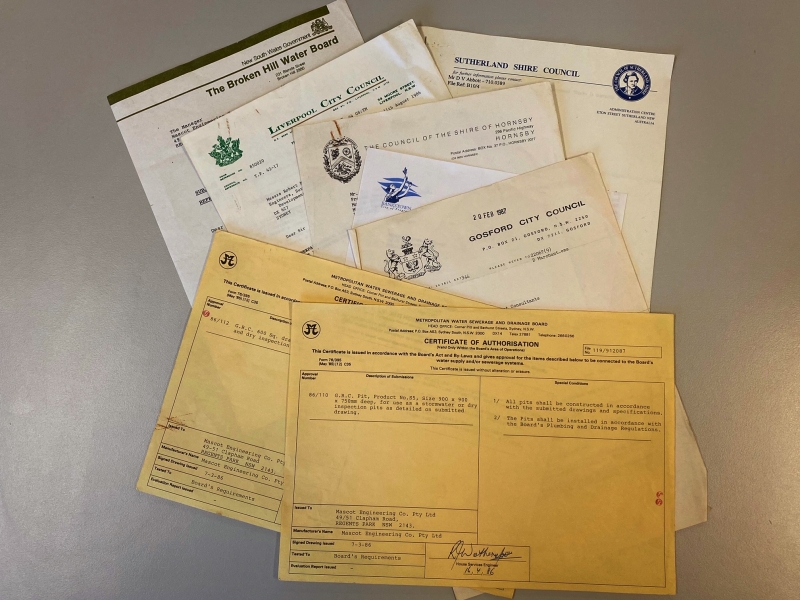 When we introduced our range of GRC Pits in the mid-1980's the industry had never seen anything like it.  Council and Water Board Inspectors across NSW would not allow the products to be installed often stating "there's no way a pit with those thin walls will do the job".
We had underestimated the markets acceptance of our new lightweight concrete pit (and possibly underestimated how innovative our new product was).  Armed with our engineering details, drawings and test results, we set about visiting every local Council and Water Authority presenting our pioneering new GRC Pit.
Whilst many authorities simply accepted our product based on the evidence we provided, others wanted to test the product themselves.  With the assistance of local plumbers and drainers, our Mascot GRC Pits were installed in test scenarios in various councils – driveways, gardens, roads etc.  We persevered with the Council Inspectors who visited and reviewed the product in action eventually gaining approvals for our pits.
Today, whilst we still go through approval processes with various asset owners and trade waste authorities for specific scenarios, regions or sites, our Mascot GRC Pits are accepted across the country.
With over 22,000 Mascot GRC Pits & Risers manufactured and installed in Australia each year, we're pretty confident that we are Australia's most relied upon Pit, Cover, Grate and Waste Water Products manufacturer.