We are open Australia wide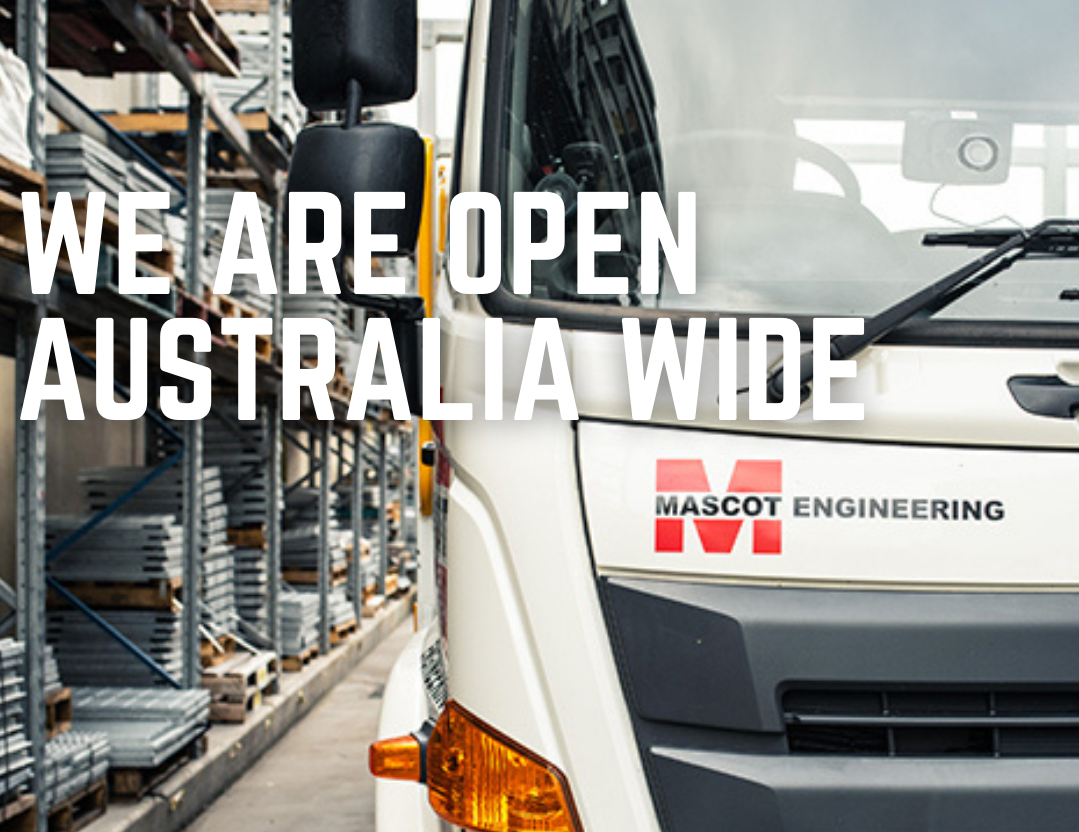 Updated 8th August, 2021
Mascot Engineering Branches remain open Australia wide 
All Mascot Engineering branch locations remain open across Australia, including our manufacturing sites.  We're monitoring the Government advice, health orders and are strictly adhering to our covid safe systems we have in place.
Below you'll find some of the details relating to the branches currently operating in a lockdown area (Sydney, Newcastle & Melbourne).
Committed to the Community
We remain committed to the well-being of the greater Mascot Engineering community.  Each decision is based on various risk assessments and consultation with our internal Covid Committee and the whole team.
Reduction in staff on site
The number of staff at each site has been reduced significantly with many working remotely and we have strict processes and protocols in place to help reduce the spread.  Mandatory wearing of masks by staff and visitors, QR Code check in and multiple sanitiser stations are just some of the changes we've made.
Business Continuity
From the outside, the changes are minimal and are in place so we may continue to provide the trade with the products you rely on with the level of service you know and trust.  From the inside, we're well prepared for a range of possible outcomes and have continuity plans in place which we're reviewing regularly.  Whilst this will assist in our own business continuity, we're also conscious of the potential impacts a change in our ability to supply could have on your business and project.
Contactless Service – Pre-Arranged Pick ups & Deliveries – Our version of 'Click and Collect'.
Mascot delivery vehicles (including courier and freight partners) from all our sites remain on the road to support trades who are undertaking authorised work and deliver to our wholesale partners.
We will continue to capture the responsible persons full name and driver number (if applicable) when delivering goods or when being picked up from our branches rather than requiring physical signatures on POD's.
When visiting our site, you'll notice several changes… whilst each location is slightly different the procedures have been devised to ensure a healthy and safe interaction between you and our team.  We require all visitors to be wearing face coverings (our team will be too of course) and that you allow sufficient time from placing an order to arriving so we can ensure your goods are packed and ready for collection – reducing your time on site.  We also ask that drivers remain in their vehicles whilst being loaded – reducing contact and keeping all safer.
COVID Safe Plan
Our team is in a fortunate position given the characteristics of our sites.  The yards are large with plenty of space for loading and unloading and the undercover areas have fantastic ventilation and air flow.  We've implemented all the suggested monitoring measures including in NSW the surveillance COVID testing requirements applicable to authorised workers who travel outside particular LGA's and our drivers who live in greater Sydney who travel 50km or more outside of Sydney for work.  We're happy to share our COVID Safe Plan with you and we will continue to update and improve it as the advice changes.
We're here for you – Communication
All staff are still available via phone, email, facetime, zoom, teams, whatsapp etc.  Follow us on LinkedIn for news and updates.
Call 1300 885 295 or email sales@mascoteng.com.au 
We will continue to monitor the advice and operate accordingly… always with the health of our team, customers, suppliers and all Australians top of mind.
If you would like to discuss any of the above, please call me on 02 9828 2600.
Nick Taylor
General Manager
Mascot Engineering
Click here for our branch contact details.