Easy installation, saving you time on site with no need to concrete collar/encase or do the steel work.
All Mascot's concrete surrounds have a 'reverse rebate' to suit a Mascot pit – the covers are all gas and watertight and complete with lifting key hole and manufactured in accordance with Australian Standard AS3996 for loadings. Available to suit all Mascot precast glass reinforced concrete pits, the below list is standard stock items, however due to our flexible manufacturing process, custom surrounds can easily be produced.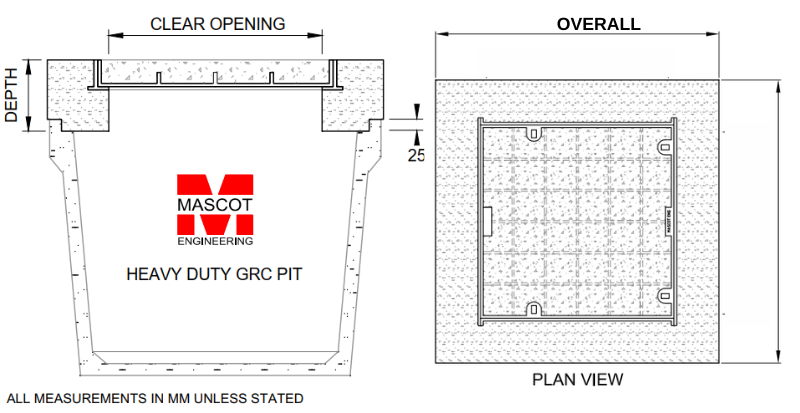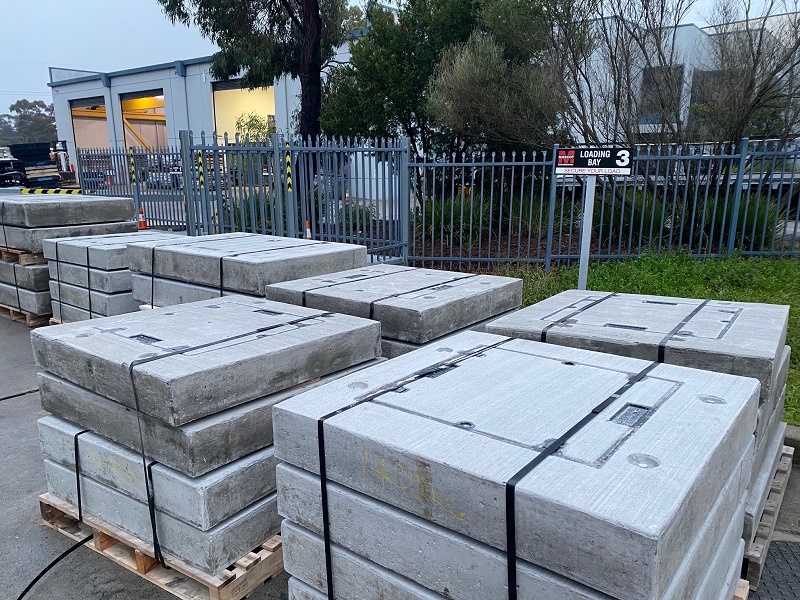 Notes
All cover and frame manufactured from grade T220 cast iron (minimum) to conform to AS1830
Castings are machined to form a gas and watertight seal
Units are coated in bituminous paint complying with BS3416 type II
Load ratings are in accordance with AS3996
Bolt down and security systems available
Two, three and multipart covers are framed also available
All covers supplied with lifting keyholes and plugs
Concrete surrounds installed with swift lifts
Concrete is minimum 40MPa (AS1480), and reinforcement to AS1302
Decorative edge (Brass or Stainless Steel) is available in 18mm, 50mm and 75mm.
The following products are standard stock items. All reinforcement is engineered to suit the desired load rating.
| Suit Pit Range | Clear Opening | Load Rating | Overall | Depth | Product Code |
| --- | --- | --- | --- | --- | --- |
| DS2 / CJP2 | 300x300 | Class B | 560mm x 560mm | 150mm | DS2SLC |
| DS2 / CJP2 | 300x300 | Class C | 560mm x 560mm | 150mm | DS2SMC |
| DS2 / CJP2 | 300x300 | Class D | 560mm x 560mm | 150mm | DS2SHC |
| DS2 / CJP2 | 300x300 | Class G | 950mm x 950mm | 300mm | DS2SEHC |
| DS3 / CJP3 | 450x450 | Class B | 710mm x 710mm | 150mm | DS3SLC |
| DS3 / CJP3 | 450x450 | Class C | 710mm x 710mm | 150mm | DS3SMC |
| DS3 / CJP3 | 450x450 | Class D | 710mm x 710mm | 150mm | DS3SHC |
| DS3 / CJP3 | 450x450 | Class G | 1100mm x 1100mm | 300mm | DS3SEHC |
| DS4 / CJP4 | 600x450 | Class B | 1020mm x 720mm | 150mm | DS4SLC |
| DS4 / CJP4 | 600x450 | Class C | 1020mm x 720mm | 150mm | DS4SMC |
| DS4 / CJP4 | 600x450 | Class D | 1020mm x 720mm | 150mm | DS4SHC |
| DS4 / CJP4 | 600x450 | Class G | 1400mm x 1100mm | 300mm | DS4SEHC |
| DS5 / CJP5 | 600x600 | Class B | 1020mm x 1020mm | 150mm | DS5SLC |
| DS5 / CJP5 | 600x600 | Class C | 1020mm x 1020mm | 150mm | DS5SMC |
| DS5 / CJP5 | 600x600 | Class D | 1020mm x 1020mm | 150mm | DS5SHC |
| DS5 / CJP5 | 600x600 | Class G | 1400mm x 1400mm | 300mm | DS5SEHC |
| DS6 / CJP6 | 600x600 | Class B | 1230mm x 1230mm | 200mm | DS6SLC |
| DS6 / CJP6 | 600x600 | Class C | 1230mm x 1230mm | 200mm | DS6SMC |
| DS6 / CJP6 | 600x600 | Class D | 1230mm x 1230mm | 200mm | DS6SHC |
| DS6 / CJP6 | 600x600 | Class G | 1600mm x 1600mm | 350mm | DS6SEHC |
All dimensions correct at time of print and may vary