Cast Iron Grates and Frames
The Original. Cast Iron is at the core of Mascot Engineering's solid history. Our Cast and Ductile Iron sump grates are ideal for high traffic, heavy duty applications. From container terminals and airports to service stations and transport depots, Mascot's sump grating is ideal.
All are available encased in an engineered concrete surround / plinth to suit all load ratings and come in sizes to suit most standard clear openings.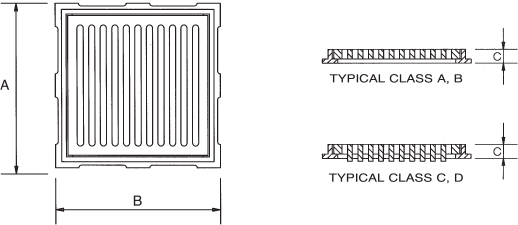 Class B
| Product Code | Clear Opening (mm) | A (mm) | B (mm) | C (mm) |
| --- | --- | --- | --- | --- |
| SP12L | 300x300 | 395 | 370 | 35 |
| SP1224L | 300x600 | 700 | 370 | 50 |
| SP18L | 450x450 | 550 | 500 | 38 |
| SP24L | 600x600 | 700 | 670 | 50 |
| SP30L | 750x750 | 890 | 840 | 63 |
| SP3024L | 750x600 | 890 | 690 | 63 |
| SP36L | 900x900 | 1000 | 965 | 50 |
| SP3618L | 900x450 | 1000 | 515 | 50 |
| SP3624L | 900x600 | 962 | 700 | 50 |

Class D
| Product Code | Clear Opening (mm) | A (mm) | B (mm) | C (mm) |
| --- | --- | --- | --- | --- |
| SP12H | 300x300 | 420 | 380 | 50 |
| SP1224H | 300x600 | 390 | 740 | 63/75 |
| SP18H | 450x450 | 555 | 500 | 50 |
| SP24H | 600x600 | 740 | 690 | 63/75 |
| SP30H | 750x750 | 890 | 840 | 63/75 |
| SP3024H | 750x600 | 890 | 690 | 90 |
| SP36H | 900x900 | 1035 | 990 | 63/75 |
| SP3618H | 900x450 | 1035 | 540 | 90 |
| SP3624H | 900x600 | 990 | 740 | 63/75 |
| SP4824H | 1200x600 | 1390 | 740 | 63/75 |