RMU Switchboard/Substation Pit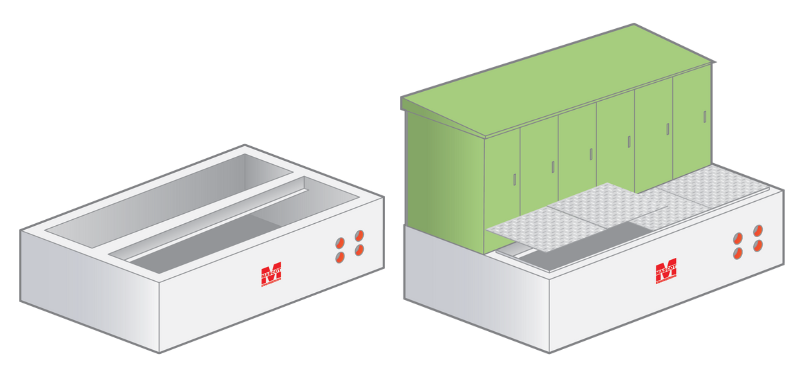 Developed in response to our client's need for a product to sit under their switchboards and RMU substation kiosks, our custom precast Switchboard/Substation Pit can be manufactured specifically for your project.  Any width, depth or length can be manufactured in a single or segmented (patented) design.
Engineered HV and LV kiosk base/pits can be built in single or multiple sections from concrete (to your specifications or ours) precast in our facility.  A precast concrete pit has considerable benefits to one poured and built on site ensuring no delays for weather and that any site access or restrictions are accounted for.  We manufacture our custom precast concrete pits in a QA controlled environment ensuring compliance and that all relevant Australian Standards are met.
Designed with side, front or rear access, Mascot Engineering custom precast Switchboard / Substation Pits come complete with all necessary fittings cast in.  Earthing continuity, pulling eyes, Unistrut, bellmouths, steps and ladders can all be included along with engineering galvanised mild steel (GMS) support beam if needed.
Mascot Engineering's extensive range of access covers can be built into the design in a load rating that suits the project environment.  Solid top cast iron or GMS checkerplate with or without lockable sections are all possible given our flexible design and manufacturing process.
Our team will work with you throughout the design and engineering process through to delivery and installation.
For more information on our precast concrete capabilities click here.
To find out more about our Coreworx Joint Bays click here.