Heavy duty. Lightweight. Cost Effective
Like all Mascot Engineering products the GRC DriveDrain is cost-effective and very practical. It is lightweight for handling ease, yet is strong enough to stand up to industrial and commercial applications.
This linear drainage system has been designed with the contractor in mind, currently available in 100mm, 150mm, 200mm and 250mm with more sizes in development.
Given the versatility of the material, it is able to be modified in both height and length easily on site. Unlike other lightweight materials (polymers and plastics), Mascot's GRC isn't brittle, won't shatter nor will it collapse during installation.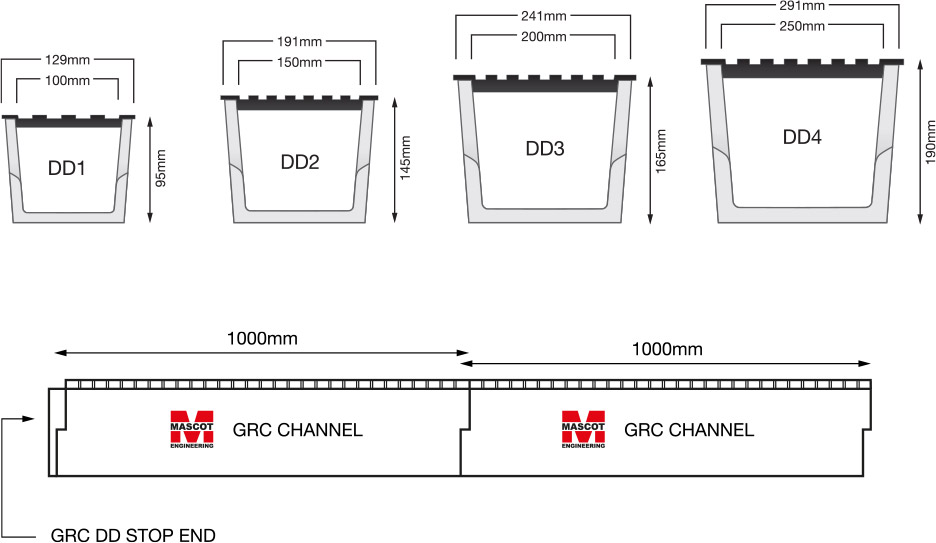 The DriveDrain Range

*See below for sizing.
GMS Longitudinal
Grates The signature DriveDrain grate is modern and durable. Manufactured from Galvanised Mild Steel, this grate is available to suit light and heavy duty applications with a bolt down option.

*See below for sizing.
Traditional Cast Iron
A longitudinal Bolt Down Cast Iron Grate and Frame is available for extra heavy duty applications, designed to take up to a Class F load.

*See below for sizing.
Sleek, Stylish Stainless Steel
For when aesthetics are paramount. Heelguard grating is available as a drop-in (as shown) or with a frame. A bolt down option is available, as is 304SS and 316SS depending on the required application.

Shallow Drain
The latest in the DriveDrain range, the Shallow Drain is used with suspended slabs or for where depth is an issue. With an overall depth of 70mm, it can be installed anywhere and is available with all grate options, including bolt-down.

Seamless
A new 12mm slot-style drain for discreet drainage in paved areas. The sleek channel sits over the DriveDrain trench, either in the centre or to one side, and is available in all sizes to give the illusion of continuity in the pavers.
Grating Options
GMS Longitudinal Light Overlay Class B
| Product Code | Internal Width (mm) | Overall Width (mm) | length (mm) |
| --- | --- | --- | --- |
| GMSDD1L | 100 | 130 | 1000 |
| GMSDD2L | 150 | 200 | 1000 |
| GMSSD200L | 200 | 240 | 1000 |
| GMSDD4L | 250 | 290 | 1000 |
GMS Longitudinal Heavy Overlay Class C
| Product Code | Internal Width (mm) | Overall Width (mm) | length (mm) |
| --- | --- | --- | --- |
| GMSDD1H | 100 | 130 | 1000 |
| GMSDD2H | 150 | 200 | 1000 |
| GMSSD200H | 200 | 240 | 1000 |
| GMSDD4H | 250 | 290 | 1000 |
Stainless Steel Heelproof Overlay Class B
| Product Code | Internal Width (mm) | Overall Width (mm) | length (mm) |
| --- | --- | --- | --- |
| SSDD1B | 100 | 130 | 1000 |
| SSDD2B | 150 | 200 | 1000 |
| SSDD3B | 200 | 240 | 1000 |
| SSDD4B | 250 | 290 | 1000 |
Ductile Iron Longitudinal Grate & Frame Class D
| Product Code | Internal Width (mm) | Overall Width (mm) | length (mm) | Height (mm) | Weight (Kg) |
| --- | --- | --- | --- | --- | --- |
| DD1LHFG | 100 | 140 | 1000 | 35 | 29 |
| DD2LHFG | 150 | 190 | 1000 | 35 | 30 |
| DD3LHFG | 200 | 240 | 1000 | 35 | 40 |
| DD4LHFG | 250 | 290 | 1000 | 35 | 47 |