Mascot Engineering are Australia's leading manufacturer of grease traps.
Mascot's range of approved grease traps are made using Glass Reinforced Concrete (GRC) technology. GRC is incredibly strong due to the presence of reinforcement throughout the material. This type of reinforcement allows for optimal strength to be achieved in a smaller section, making GRC products not only strong and resilient, but much lighter in weight than traditional steel reinforced concrete solutions. Mascot's manufacturing methods produce grease traps that exceed the required strength without being brittle, so they are not at risk of shattering during delivery or installation as is sometimes seen with polymer based or plastic grease traps.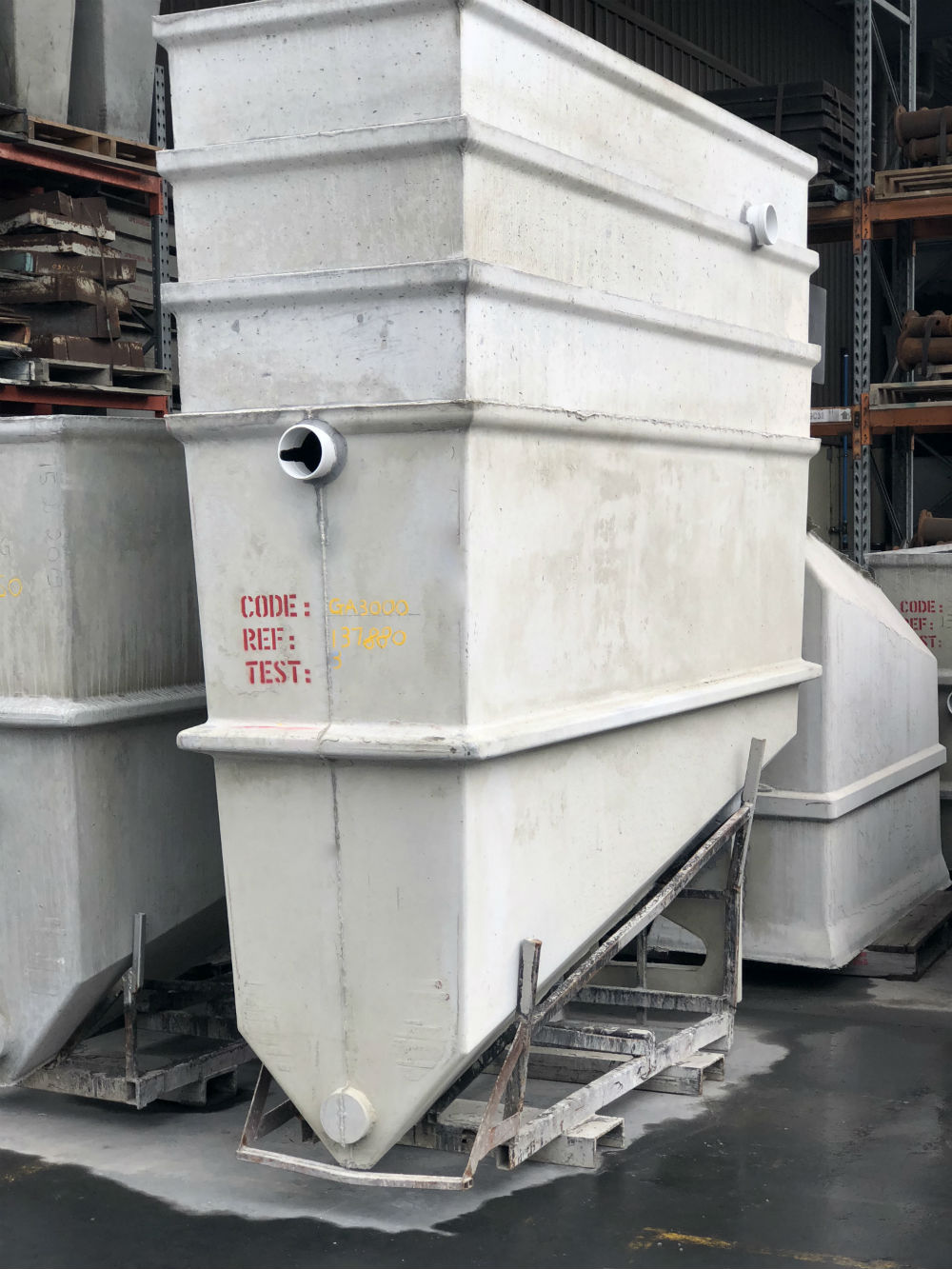 What is a grease trap?
Grease Traps, Grease Interceptors, Grease Arrestors… regardless of what you call them, Grease trap devices are designed to remove Fats, Oil and Grease (FOG) from waste water prior to it being discharged to the main sewer system. All grease traps must be approved or authorised by the relevant water authorities to be eligible for installation. It is a requirement to install grease traps for any business that discharges water containing FOGs to the sewer line such as restaurants and take away food outlets.
Choosing the right tank
Generally a Hydraulic Engineer in association with the local water authority or council will assess your proposed use and recommend the appropriate pre-treatment device, or grease trap and the size required. Mascot Engineering have the largest range of authorised trade waste pre-treatment devices in Australia, so regardless of the product and size, we're sure to have one to suit. Mascot Engineering can also provide custom units with PVC, Cast Iron or HDPE pipes in various sizes.
Installing a grease trap
The great benefit in choosing a Mascot grease trap is that they are easy to install, whilst remaining strong. Their light weight nature makes them simpler to work with on site, and more cost effective to deliver. GRC products have been tested to be of equal strength to a comparable traditional steel reinforced concrete product, but only around a fraction of the weight. For example, our GA100 (1000L) tank can fit through a standard doorway, and only weighs 324kg, in comparison to its concrete equivalent, which weighs over 2.5 tonne.  As Mascot's grease traps are made from GRC, they do not require a support frame to be constructed during installation. Mascot GRC grease traps come complete with simple and thorough installation instructions and are strong enough to withstand the installation process without the risk of shattering or cracking.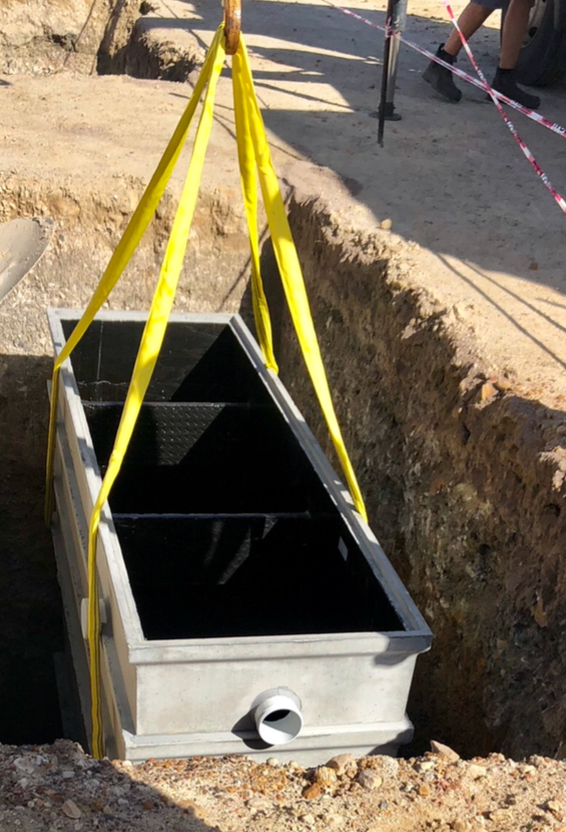 Maintenance
The simple, yet effective design of a grease trap enables FOGs to be separated from waste water and pushed to the top of the device. Grease traps are maintained by specialist cleaning companies who remove or "pump out" the waste, as well as clean the interior of the tank. The frequency of cleaning is determined by the size of your grease trap, the type of business, as well as the volume of water passing through the device. Mascot grease traps are supplied lined with an epoxy resin coating, protecting the grease trap from acid attack and enabling easier cleaning.
Products
Mascot Engineering – experts in grease trap and trade waste products
Our technical team are on hand to provide advice, so speak to the experts in trade waste devices about the options for your grease trap or other trade waste device. Mascot Engineering have proudly serviced the Australian construction industry for 99 years, and pioneered the use of Glass Reinforced Concrete for use in civil and retail applications since the mid 80's. Today, Mascot Engineering are leaders in the manufacture and supply of grease traps, with water authority approvals and distribution Australia wide, including:
Sydney Water
WA Water Corporation
ACTEW Water
Queensland Urban Utilities
Melbourne Water
Hunter Water
City West Water
Yarra Valley Water
TasWater
Gladstone Area Water Board
Logan City Council
Barwon Water
City of Gold Coast
SEQ Water
Unity Water
Gippsland Water
Central Highlands Water
South East Water
Goulburn Valley Water
SA Water
City of Townsville
Power Water
Coliban Water
Redland Water
Shoalhaven Water
Western Water