Regardless of the pit, Mascot Engineering have an access solution to suit.
If you can't see what you're looking for below, call the Mascot 4YOU team on 1300 885 295 for assistance.
Step Irons to suit Mascot GRC Pits
Designed for attachment prior to backfilling, these steps have been designed specifically for Mascot GRC Pits.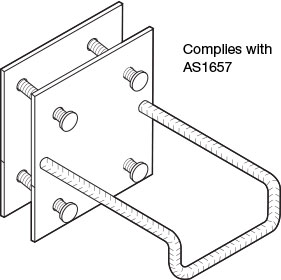 Plastic Encapsulated Step Irons to suit Precast Concrete Pits
These steel step irons are encapsulated in UV stabilised bright yellow polypropylene for high visibility and strength.  We can provide these loose for installation on site, or cast them into our custom precast pits during manufacture.
Available in the following sizes – 175mm, 225mm and 375mm.

Ladders
Retractable ladders to suit your pit depth can be manufactured to suit your project specifications.  Available in galvanised mild steel, stainless steel of plastic encapsulated – please call the Mascot 4YOU team on 1300 885 295 to discuss your requirements.