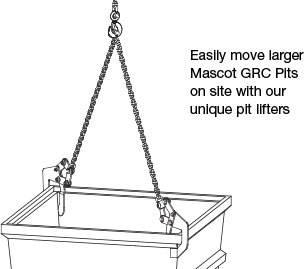 Designed and engineered to suit Mascot GRC Pits, our easy to use Pit Lifters simply clamp over the corner or side rebate and allow simple and easy movement on site and whilst unloading.
Manufactured from grade 250 steel plate to AS1594:2002 with bolts to AS1252.1:2016 and welds according to AS1554.1 our GRC Pit Lifters are tested to safe working loads of 1000kg and 500kg (depending on style) with a safety factor of 2.0.
These engineered Pit Lifters come in two load ratings and are permanently marked with the suitable load and accompanied with an appropriately developed Standard Operating Procedure (SOP).
Engineer Design Certificate # 11081.
Using Mascot GRC Pit Lifters:
Loosely place the Pit Lifter over the corners of the Pit by undoing the safety bolt (coloured RED) wing-nut, placing the clamps over the corner of the Pit lip. Ensure the corner support of the clamp is positioned below the lip of the Pit as pictured below.
Set the centre of the D-shackle onto the crane hook ensuring the lift point allows slings/chains to have a maximum 60 degree spread.
Minimum chain or sling length to be >860mm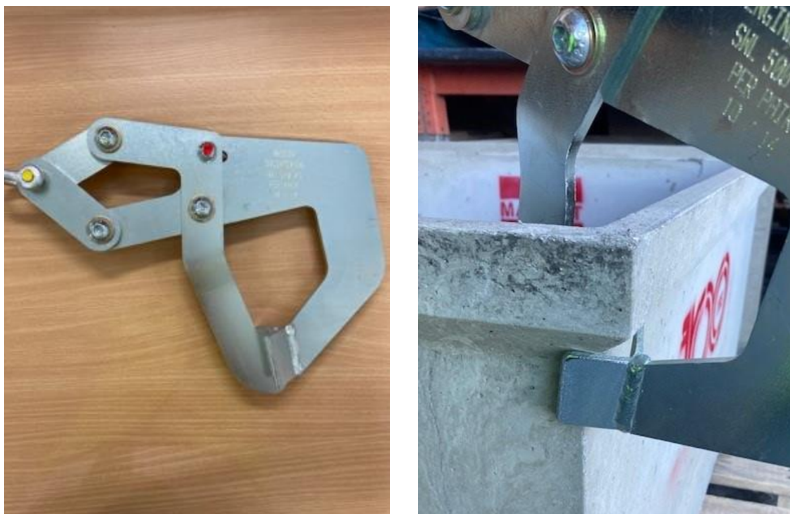 Please contact our technical team on 1300 885 295 to discuss your requirements.