Two Part Infill Covers (Gastight)
Mascot Engineering's Two Part Covers combine two standard size covers in a single frame. These covers are used when a single part does not provide a large enough clear opening or when smaller individual covers are required to ease lifting.
A range of Class E (400Kn) Two Part Infill Covers are also available. The chart below will be updated shortly, in the meantime please contact us for details.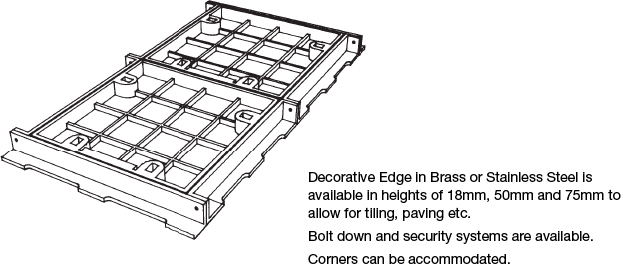 Load Rating
Clear Opening
Overall Depth
Product Type
Overall Size
Product Code
Class B
300mm x 660mm
50mm
2 Part
470mm x 720mm
2P300x660B
450mm x 660mm
50mm
2 Part
630mm x 720mm
2P450x660B
450mm x 960mm
50mm
2 Part
630mm x 1020mm
2P450x960B
600mm x 960mm
50mm
2 Part
775mm x 1020mm
2P600x960B
600mm x 1260mm
50mm
2 Part
775mm x 1320mm
2P600x1260B
750mm x 1260mm
50mm
2 Part
915mm x 1320mm
2P750x1260B
750mm x 1560mm
50mm
2 Part
915mm x 1620mm
2P750x1560B
900mm x 1260mm
50mm
2 Part
1075mm x 1320mm
2P900x1260B
900mm x 1560mm
50mm
2 Part
1075mm x 1620mm
2P900x1560B
900mm x 1860mm
50mm
2 Part
1075mm x 1320mm
2P900x1860B
1050mm x 1260mm
50mm
2 Part
1280mm x 1320mm
2P1050x1260B
Class D
300mm x 680mm
50mm
2 Part
470mm x 760mm
2P300x680D
450mm x 980mm
50mm
2 Part
620mm x 1060mm
2P450x980D
600mm x 990mm
75mm
2 Part
770mm x 1070mm
2P600x990D
600mm x 1130mm
75mm
2 Part
770mm x 1210mm
2P600x1130D
600mm x 1280mm
75mm
2 Part
770mm x 1360mm
2P600x1280D
750mm x 1280mm
75mm
2 Part
920mm x 1360mm
2P750x1280D
750mm x 1580mm
75mm
2 Part
920mm x 1660mm
2P750x1580D
900mm x 1280mm
75mm
2 Part
1070mm x 1360mm
2P900x1280D
900mm x 1580mm
75mm
2 Part
1070mm x 1660mm
2P900x1580D
900mm x 1880mm
75mm
2 Part
1070mm x 1960mm
2P900x1880D
Class E
Contact us for details. New range now available
Glass G
450mm x 1000mm
100mm
2 Part
650mm x 1200mm
2P450X1000G
600mm x 1000mm
100mm
2 Part
800mm x 1200mm
2P450X1000G
600mm x 1250mm
100mm
2 Part
800mm x 1350mm
2P600X1000G
600mm x 1300mm
100mm
2 Part
800mm x 1400mm
2P600X1250G
750mm x 1300mm
100mm
2 Part
950mm x 1400mm
2P600X1300G
750mm x 1450mm
100mm
2 Part
950mm x 1750mm
2P750X1450G
750mm x 1600mm
100mm
2 Part
950mm x 1380mm
2P750X1600G
900mm x 1300mm
100mm
2 Part
1100mm x 1400mm
2P900X1300G
900mm x 1600mm
100mm
2 Part
1100mm x 1700mm
2P900X1600G
900mm x 1900mm
100mm
2 Part
1100mm x 2000mm
2P900X1900G
Installation Rebate Detail

| Load Rating | A (mm) | B (mm) |
| --- | --- | --- |
| B | 75 | 120 |
| D + E | 100 | 150 |
| G | 125 | 200 |