Mascot Engineering's Trench Covers combine any number of standard size covers in a long single frame.  Trench runs are used when a single part does not provide a large enough clear opening or when smaller individual covers are required to ease lifting and access.  Designed to meet the load ratings specified in AS3996:2019, continuous trench runs can be used to cover and provide access to underground fuel lines, stormwater or sewer systems, electricity and communications enclosures and ducting, valves and many more.
All covers in the system can be removed to provide unrestricted access… alternatively one cover (in any part of the system) can be removed to provide access to a specific section.
Available in Class B, D, E and G (AS3996:2019) all Mascot Engineering access covers are load tested whilst supported on only two sides to ensure no loss of rating when used in a trench run or multipart system.
The chart below will be updated with Class E covers shortly, in the meantime please contact us for details.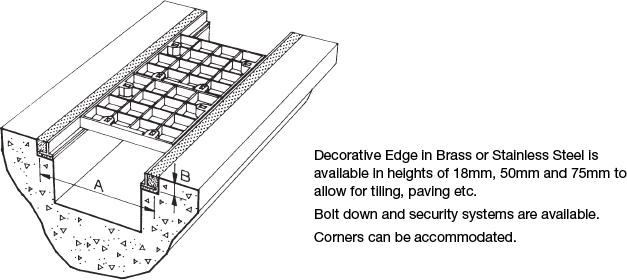 Class
Product Code
Opening Size (mm)
A (mm)
B (mm)
B
LB201
300
470
50
B
LB202
450
630
50
B
LB203
600
775
50
B
LB204
750
915
50
B
LB205
900
1075
50
D
MD401
300
470
50
D
MD402
450
620
50
D
MD403
600
770
75
D
MD404
750
920
75
D
MD405
900
1070
75
E
Contact us for details. New range now available.
G
HG501
300
546
100
G
HG502
450
686
100
G
HG503
600
840
100
G
HG504
750
985
100
G
HG505
900
1130
100
G
HG506
1050
1280
100