Installation Instructions – Water Tanks
Mascot Engineering's Underground Water Tanks are designed to be installed in rather shallow depths without the requirement for shoring, making them easier and more cost effective to install.
3,000L Underground Water Tank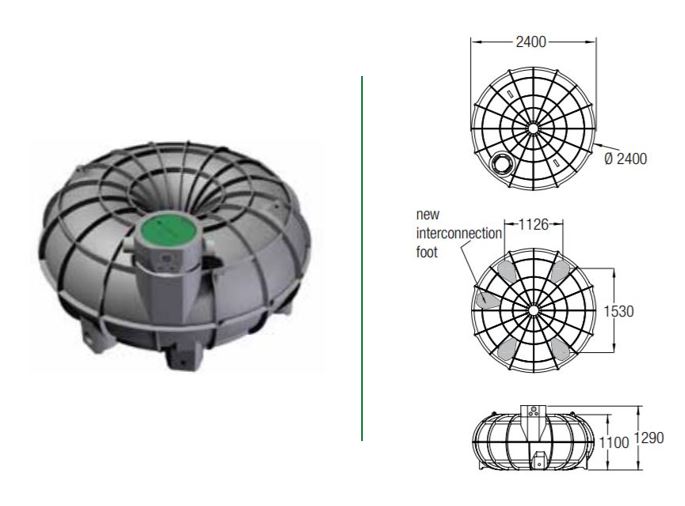 5,000L Underground Water Tank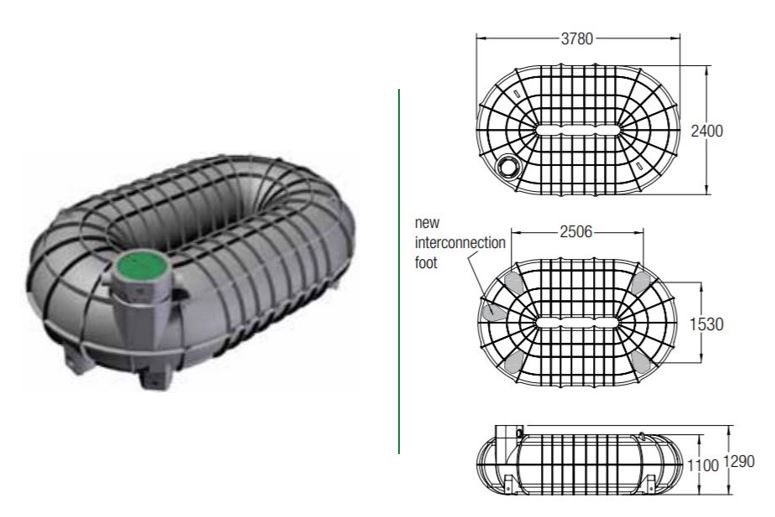 Every site is unique and are subject to a range of conditions and we recommend that yours is assessed by a suitably qualified person to ensure the characteristics of your development are allowed for.  Installation must be performed by a licenced and experienced plumber… Below you'll find 'standard' installation instructions for your reference.
Installers must observe the relevant codes of practice and standards legislated.  We recommend contractors contact 'Dial Before You Dig' on 1100 or at www.1100.com.au. Site conditions may require additional reinforcement or a change to these details that may need to be provided by an engineer.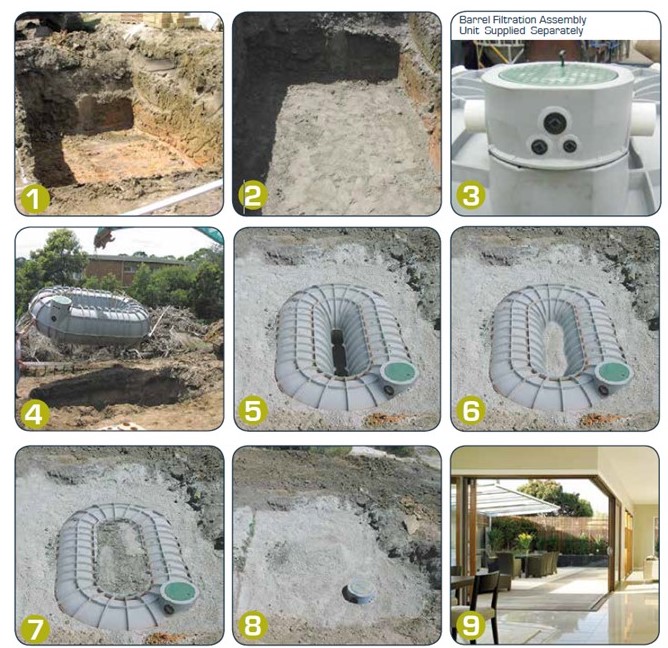 Step by Step Installation Instructions
Excavate hole to dimensions.
Prepare level base of hole with backfill material.
Attach barrel filter unit and if required position adjustable collar – ensure silicone is used between the joint of the the tank inlet, the barrel filter unit and collar to form a water tight seal.
Lift tank into hole using lifting lugs on top of tank.
Fill around perimeter of tank with backfill material.
Fill centre of tank up to 150mm below the tank's half way flange with backfill material.
Fill centre of tank with backfill material and/or concrete ballast.
Tank is now ready to be covered and landscaped over.
More details below…
Load & Non-Load Bearing
Our underground tanks can be installed in wet or dry situations, however the ballast requirements will vary and need to be calculated to prevent hydrostatic lift.  Every litre of the tanks capacity will equal 1kg of upward force if an empty tank comes into contact with water.  Our 3,000L tank will need at least 3,001kg of ballast and our 5,000L tank will need at least 5,001kg to stop them from floating if they come into contact with water.
Ballast calculations can include the weight of the tank and anything else which will combine to achieve downward pressure (positive ballast).  Water in the tank is a great to stabilise a tank during install, but your ballast calculation should always assume a worst case situation of the tank being empty.
WARNING: If there will be a delay in connecting an inlet/overflow pipe to the tank, precaution must be taken to stop storm-water from entering the excavated site or the appropriate ballast should be applied to negate the possibility of storm-water creating hydrostatic lift on the empty tank.
Base, Backfill & Topdressing
Base: 100m of either blue metal (max 10mm grade) or 3% stabilised sand.
Backfill:
For 'dry' installations where the tank will not be effected by ground water we recommend a maximum of 10mm recycled blue metal or 3% minimum concrete stabilised sand backfilled to the top of the tank.
For 'wet' installations where the water table, ground or storm-water will affect the excavation we recommend a minimum 3% concrete stabilised sand or crushed rock, 20mm grade backfilled to the top of the tank.
Compression Ballast requirement (poured on top of the tank):
3,000L Tank:  1.4m3 of 20-25mpa 80 slump concrete.
5,000L Tank: 2.3m3 of 20-25mps 80 slump concrete.
Topdressing:
Non-Load Bearing:  Excavated soil (clean fill with no rock particles greater than 20mm).
Load Bearing: We recommend a structural heavy duty cover/lid and collar combination.  It's critical that any load greater than 500kg is not transferred to the tank itself… rather it is to the surrounding concrete floor, driveway or surface finish.  A load rated access cover can be used in this scenario.
Standard Tank Fit Out & Fittings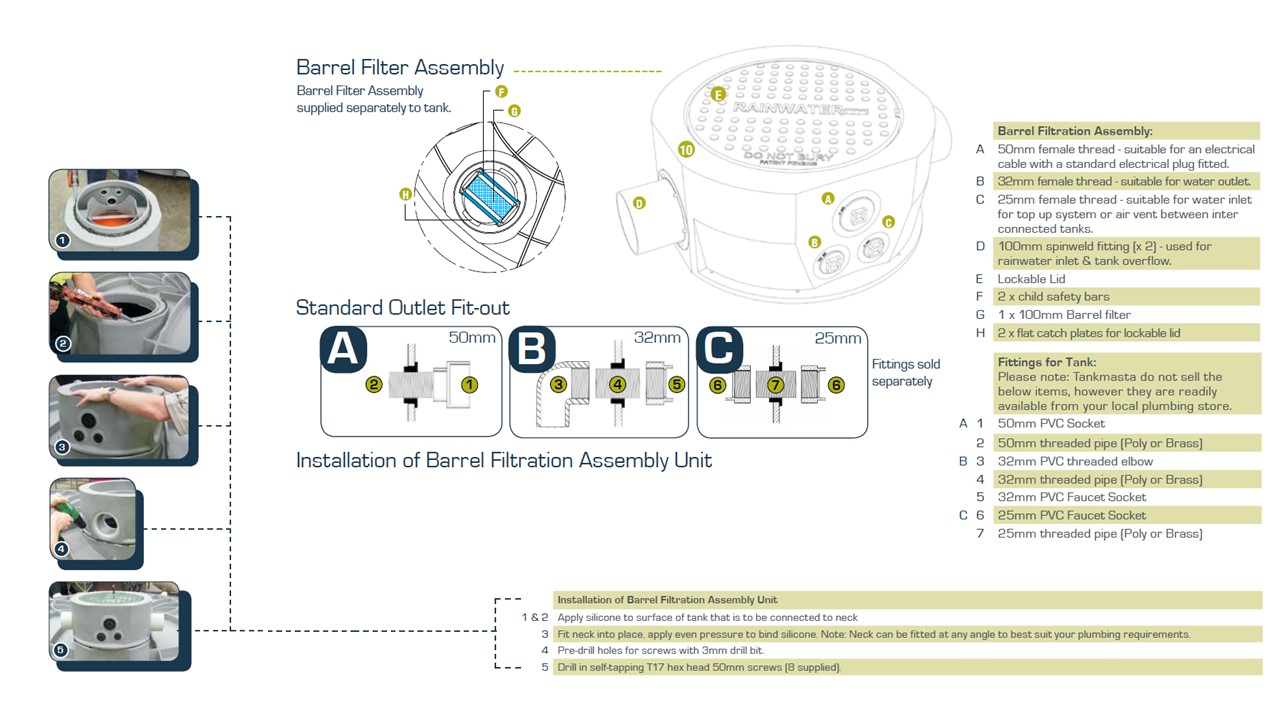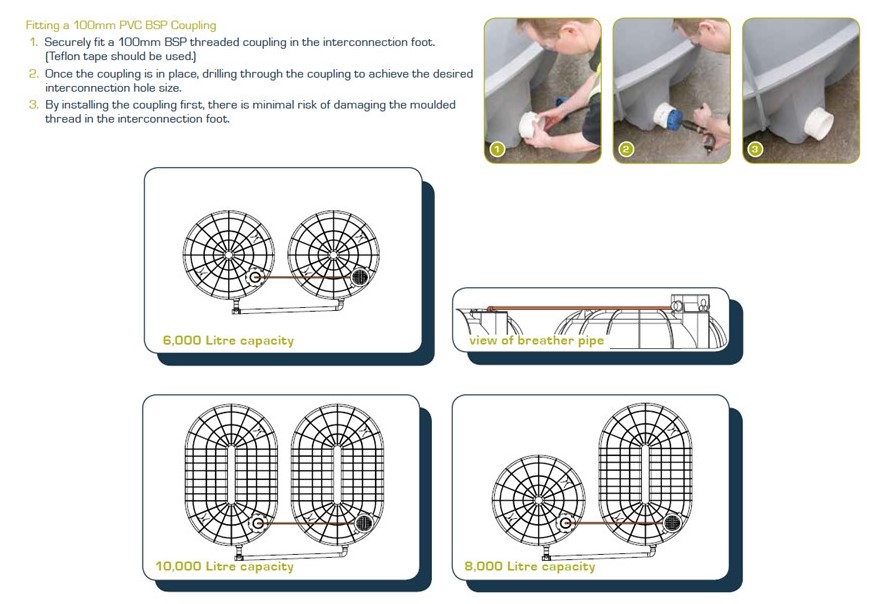 Multiple Tank Installation
Both size tanks can be coupled together in any combination to achieve greater water capacity. When connecting tanks it is critical to use a 100mm coupling and swivel joint close to the tank to absorb any ground movement that may create pressure or an uneven load on the pipe work.  Before backfilling please check that any exposed pipes are fully supported to prevent damage.  Our water tanks are pressure tested for leaks after manufacture and we recommend you water test the fittings before backfilling to ensure the install is leak free.

Retention / Detention
Our underground water tanks can easily be adapted to create a retention or detention system.  By adjusting the external overflow pipe work to the height of the desired storage capacity (retention) and simply drilling the required discharge hole size in the interconnect foot, a storm water detention system can be created.  It's important that any detention or retention system include a 100mm swivel coupling at the interconnection foot and a storm water backflow prevention valve.
Accessories
A foam filled collar, lid and steel ring for installations in trafficable areas can be provided.  We also have a cone riser which allows the tank to be installed without knowing the final site finished level.  This enables work to continue around the site and the final adjustments can be made after all work is complete.  The cone riser can also be installed to raise the tank inlet height ie. To install the tank at the depth of the existing pipe work or when the tank inlet is situated in a raised garden bed.  The smooth wall surface allows for electrical inlet fittings to be installed into the cone riser allowing easier access from the ground surface.  Note: The maximum height adjustment is 600mm and the cone riser is an optional extra and not standard.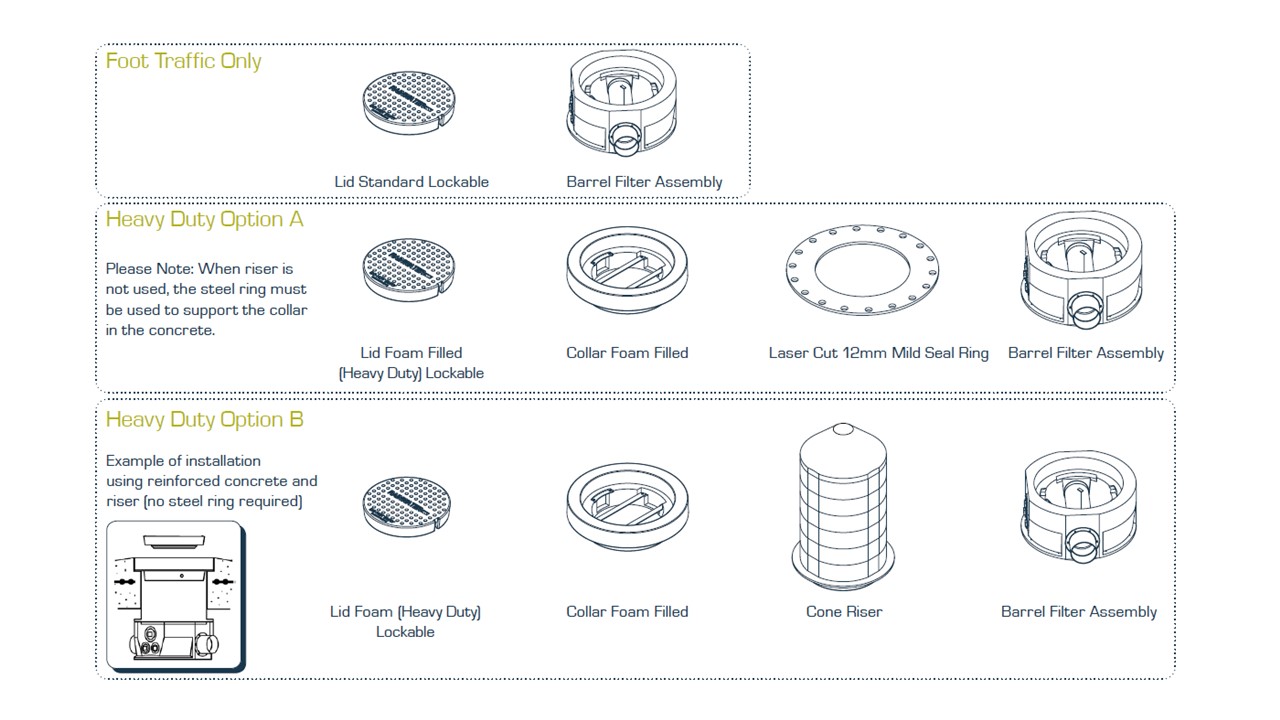 Tank Volumes
The below table and diagram can be used to determine the position of the float switch where a mains top up or interconnect system is fitted to the tank or for water retention / detention systems.  The volume of water in the tank at specific depths is noted however the measurements are approximate.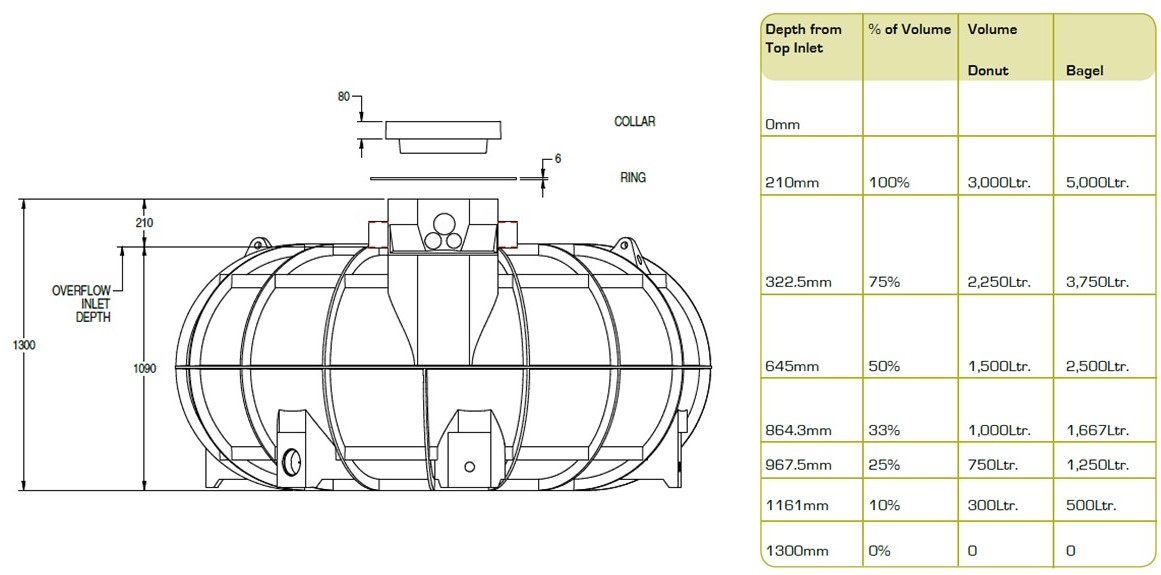 Care & Maintenance
Whilst very low maintenance, our Water Tanks require a maintenance schedule based on the local conditions… Items like a first flush, continuous diverter or an in-line cartridge filter after the pump may be needed to reduce and/or remove fine particles and impurities from the water.
More information
To discuss your application or with questions on the above, contact our technical team on 1300 885 295.