GMS Checkerplate (Boltdown)
This range of hot dipped Galvanised Mild Steel covers are manufactured to sit into the rebate of our lightweight GRC cable pits. The checkerplate covers are slip resistant (P3 to AS4586) and when paired with our locking system they prevent opportunistic access – patented high security bolts are available if required.  The locking system is 'barless' to ensure a larger clear opening and no additional components that can be lost.
Available in up to Class C as standard stock items, a Class D (with frame) is available if required.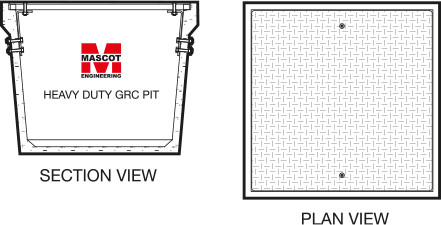 Notes
Steel checkerplate covers are manufactured in accordance to AS3678 & AS3679.1 with Grade 250 structural steel
All welding complies with all guidelines as set out in AS1554
All components are hot dipped galvanised after fabrication in accordance to AS1650, AS/NZS 4680:2006
Covers are lifted using standard Telstra lifting keys
Class A,B & C covers finish flush with the top of the Mascot GRC Pit
Brass and Stainless Steel marker plates available
For details on Class D covers, please contact the technical team.
Security keyhole plugs available
| Suit Pit Range | Clear Opening | Load Rating | Cover Type | Weight | Product Code |
| --- | --- | --- | --- | --- | --- |
| CJP0 | 280x280 | Class A | Boltdown | 4kg | CJP0GMSCBDA |
| CJP0 | 280x280 | Class B | Boltdown | 5kg | CJP0GMSCBDB |
| CJP0 | 280x280 | Class C | Boltdown | 7kg | CJP0GMSCBDC |
| CJP1 | 350x350 | Class A | Boltdown | 5kg | CJP1GMSCBDA |
| CJP1 | 350x350 | Class B | Boltdown | 6kg | CJP1GMSCBDB |
| CJP1 | 350x350 | Class C | Boltdown | 8kg | CJP1GMSCBDC |
| CJP2 | 450x450 | Class A | Boltdown | 8kg | CJP2GMSCBDA |
| CJP2 | 450x450 | Class B | Boltdown | 10kg | CJP2GMSCBDB |
| CJP2 | 450x450 | Class C | Boltdown | 12kg | CJP2GMSCBDC |
| CJP3 | 600x600 | Class A | Boltdown | 17kg | CJP3GMSCBDA |
| CJP3 | 600x600 | Class B | Boltdown | 19kg | CJP3GMSCBDB |
| CJP3 | 600x600 | Class C | Boltdown | 23kg | CJP3GMSCBDC |
| CJP4 | 900x600 | Class A | Boltdown | 30kg | CJP4GMSCBDA |
| CJP4 | 900x600 | Class B | Boltdown | 38kg | CJP4GMSCBDB |
| CJP4 | 900x600 | Class C | Boltdown | 48kg | CJP4GMSCBDC |
| CJP5 | 900x900 | Class A | Boltdown | 40kg | CJP5GMSCBDA |
| CJP5 | 900x900 | Class B | Boltdown | 45kg | CJP5GMSCBDB |
| CJP5 | 900x900 | Class C | Boltdown | 50kg | CJP5GMSCBDC |
| CJP6 | 1100x1100 | Class A | Boltdown | 70kg | CJP6GMSCBDA |
| CJP6 | 1100x1100 | Class B | Boltdown | 80kg | CJP6GMSCBDB |
| CJP6 | 1100x1100 | Class C | Boltdown | 86kg | CJP6GMSCBDC |
| CJP7 | 600x300 | Class A | Boltdown | 8kg | CJP7GMSCBDA |
| CJP7 | 600x300 | Class B | Boltdown | 10kg | CJP7GMSCBDB |
| CJP7 | 600x300 | Class C | Boltdown | 13kg | CJP7GMSCBDC |
| CJP8 | 1250x450 | Class A | Boltdown | 26kg | CJP8GMSCBDA |
| CJP8 | 1250x450 | Class B | Boltdown | 30kg | CJP8GMSCBDB |
| CJP8 | 1250x450 | Class C | Boltdown | 40kg | CJP8GMSCBDC |
| CJP9 | 585x245 | Class A | Boltdown | 8kg | CJP9GMSCBDA |
| CJP9 | 585x245 | Class B | Boltdown | 10kg | CJP9GMSCBDB |
| CJP9 | 585x245 | Class C | Boltdown | 13kg | CJP9GMSCBDC |