Covers to suit Flat Bottom Trade Waste Tanks
With the largest range of authorised trade waste products in Australia, we're conscious that picking the right cover for your trade waste product can be confusing so we've tried to make it as simple as possible.
Below is a list of products these covers suit, if the product you're looking for is not featured, please follow the links from that products page.
All Mascot Engineering trade waste covers are engineered and manufactured to meet the load ratings specified in AS3996. These covers are water and gastight ensuring unpleasant odours are kept within. The standard covers are supplied already encased in a concrete surround to ease installation and Australian Standard key holes are utilised for access and lifting keys (short and long handle) are available.
Decorative Edge / Raised Solid Top Covers / Custom Covers
All the below covers are standard, however can be modified to include a brass or stainless steel edge for paver or tile infilling. We also have a range of solid top covers that can be encased proud of the concrete for paving around. If you're after something more particular, we can manufacture a cover to suit your project.
To discuss your requirements, contact 4you@mascoteng.com.au or call 1300 885 295.
The below cover suits the following: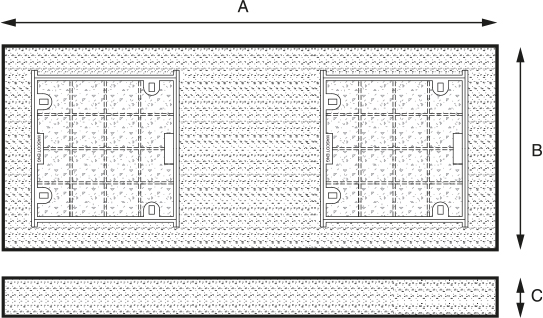 | Load Rating | Clear Openings (mm) | A (mm) | B (mm) | C (mm) | Weight (kg) |
| --- | --- | --- | --- | --- | --- |
| Class B | 2 x 600sq | 2150 | 895 | 150 | 655 |
| Class D | 2 x 600sq | 2150 | 895 | 200 | 890 |
The below covers suit the smaller and Square WA Grease Arrestors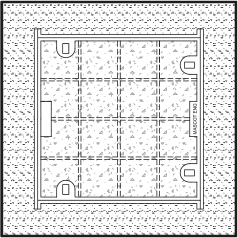 | Grease Arrestor Size | State Authorised | Load Rating | Access Cover Clear Openings (mm) | A (mm) | B (mm) | C (mm) | Weight (kg) |
| --- | --- | --- | --- | --- | --- | --- | --- |
| 540L | WA/QLD/SA/NT | Class B | 600sq | 1230 | 1230 | 200 | 565 |
| 540L | WA/QLD/SA/NT | Class D | 600sq | 1230 | 1230 | 200 | 710 |
| 600L | VIC | Class B | 450x600 | 1020 | 720 | 150 | 252 |
| 600L | VIC | Class D | 450x600 | 1020 | 720 | 150 | 360 |
| 1000L Square | WA | Class B | 600sq | 1230 | 1230 | 200 | 565 |
| 1000L Square | WA | Class D | 600sq | 1230 | 1230 | 200 | 710 |
| 1500L Square | WA | Class B | 600sq | 1230 | 1230 | 200 | 565 |
| 1500L Square | WA | Class D | 600sq | 1230 | 1230 | 200 | 710 |