Paver Infill – Non Gastight
A cost effective alternative to traditional brass or stainless steel edge covers, Mascot's Paver Infill Covers are available in Class B and Class D (AS3996) loadings. The ductile iron paver infill covers and frames are perfect for urban areas, patios and driveways where you would like the cover to disappear into the surface finish.
Suitable for pavers, tiles, decorative concrete and other floor finishes these covers are for use over electricity, communications as well as stormwater and drainage systems. Although the edge is wider than galvanised steel versions, the additional strength of the ductile iron ensures the covers do not warp when removed.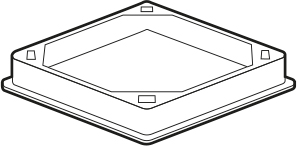 Notes
Covers allow for an infill depth of 75mm
All covers and frames manufactured from grade T220 iron (minimum) to conform to AS1830
Units are coated in bituminous paint complying with BS3416 type II
Load ratings are in accordance with AS3996
Covers and Frames are not interchangeable
All covers supplied with lifting keyholes and plugs
| Clear Opening | Load Rating | Cover Type | Weight | Product Code |
| --- | --- | --- | --- | --- |
| 450x450 | Class B | Paver Infill Cover & Frame | 51kg | PI44B |
| 450x450 | Class D | Paver Infill Cover & Frame | 64kg | PI44D |
| 600x600 | Class B | Paver Infill Cover & Frame | 65kg | PI66B |
| 600x600 | Class D | Paver Infill Cover & Frame | 72kg | PI66D |
| 900x600 | Class B | Paver Infill Cover & Frame | 119kg | PI96B |
| 900x600 | Class D | Paver Infill Cover & Frame | 128kg | PI96D |
| 900x900 | Class B | Paver Infill Cover & Frame | 130kg | PI99B |
| 900x900 | Class D | Paver Infill Cover & Frame | 140kg | PI99D |