The GMS drop-in grates are the most popular grate to suit the Mascot GRC Pit range. Available to suit all Mascot precast glass reinforced concrete pits in two loadings as standard.
These grates simply sit into the rebate of the pit and finish flush with the top edge of the pit (surface). For heavier traffic areas, see the range of grates and frames.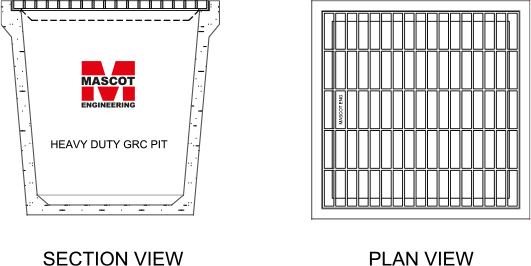 Notes
All grates are manufactured to suit Mascot GRC Pit rebate only.
Load ratings vary depending on pit size; please confirm with technical team based on your application and pit size. Indication of loadings available in below chart.
All grates are made to the requirements of AS1204 from Grade 250 structural steel.
Welding complies with guidelines set out in AS1554 and in accordance with AS3902 where applicable. Hot dipped galvanising in accordance with AS1650.
| Suit Pit Range | Clear Opening | Load Rating | Weight (kg) | Product Code |
| --- | --- | --- | --- | --- |
| DS0 | 300x300 | Cars | 3 | GMSDS0PD |
| DS1 | 350x350 | Cars | 4.5 | GMSDS1PD |
| DS2 | 450x450 | Cars | 7 | GMSDS2PD |
| DS2 | 450x450 | Trucks (slow moving) | 13 | GMSDS2HG |
| DS3 | 600x600 | Cars | 12 | GMSDS3PD |
| DS3 | 600x600 | Trucks (slow moving) | 26 | GMSDS3HG |
| DS4 | 900x600 | Pedestrian | 18 | GMSDS4PD |
| DS5 | 900x900 | Pedestrian | 24 | GMSDS5PD |
| DS6 | 1100x1100 | Pedestrian | 50 | GMSDS6PD |