Mascot Engineering's GMS Sump Grates and Frames come in a range of standard sizes to suit our Glass Reinforced Concrete (GRC) Pits. This range of Grates come complete with the distinctive RHS locater which locks the frame into the pit rebate – simply drop on top, walk away with confidence that the grate and frame will be square to the pit opening.
All are fitted with boltdown facility and are also available encased in an engineered concrete surround / plinth to suit all load ratings. Below you'll find the standard stock sizes, however we can manufacture custom grating sizes for your project.
Heelproof versions of these grates are also available.
Meeting the Standards
All Mascot Engineering Galvanised Mild Steel grates are manufactured in accordance with AS3902 where applicable and to satisfy the requirements of AS1204 from Grade 250 structural steel. All welding complies with the guidelines set out in AS1554 and all components are hot dip galvanised after fabrication in accordance with AS1650. Load ratings are in accordance with AS3996.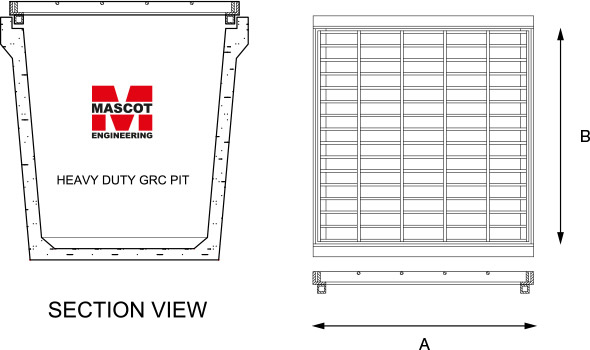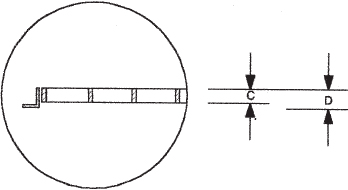 | Suite Pit Range | Pit Size | Load Ratings | A (mm) | B (mm) | C (mm) | D (mm) | Weight (kg) | Product Code |
| --- | --- | --- | --- | --- | --- | --- | --- | --- |
| DS2 | 450x450 | Class B | 510 | 460 | 25/50 | 30 | 16 | DS2HBLFG |
| DS3 | 600x600 | Class B | 660 | 610 | 25/50 | 30 | 25 | DS3HBLFG |
| DS4 | 900x600 | Class B | 660 | 910 | 25/50 | 30 | 35 | DS4HBLFG |
| DS5 | 900x900 | Class B | 1000 | 910 | 40/60 | 45 | 91 | DS5HBLFG |
| DS6 | 1200x1200 | Class B | 1170 | 1170 | 40/60 | 45 | 111 | DS6HBLFG |
| Suite Pit Range | Pit Size | Load Ratings | A (mm) | B (mm) | C (mm) | D (mm) | Weight (kg) | Product Code |
| --- | --- | --- | --- | --- | --- | --- | --- | --- |
| DS2 | 450x450 | Class D | 540 | 460 | 40/75 | 45 | 29 | DS2HBHFG |
| DS3 | 600x600 | Class D | 700 | 610 | 45/75 | 50 | 49 | DS3HBHFG |
| DS4 | 900x600 | Class D | 700 | 910 | 45/75 | 50 | 68 | DS4HBHFG |
| DS5 | 900x900 | Class D | 1000 | 910 | 45/100 | 50 | 104 | DS5HBHFG |
| DS6 | 1200x1200 | Class D | 1220 | 1230 | 50/125 | 65 | 200 | DS6HBHFG |